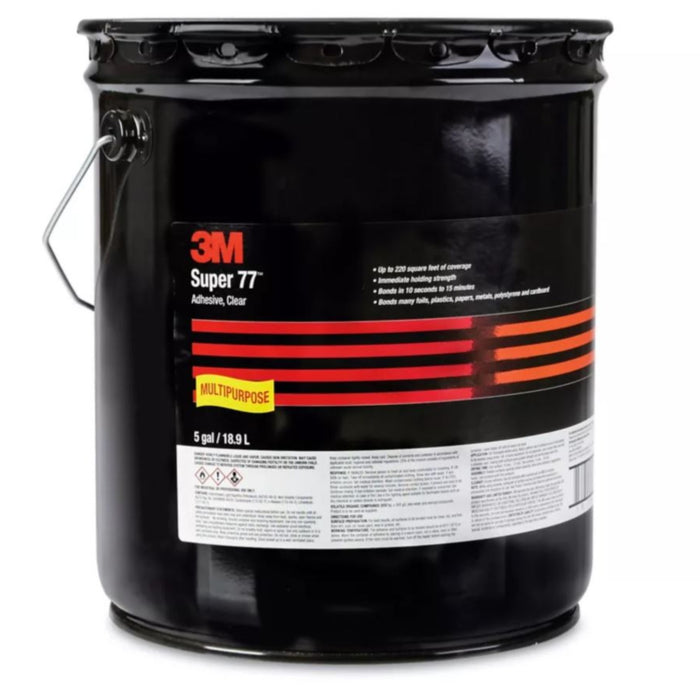 3M™ Super 77™ Multipurpose Construction Adhesive
Save

0

%
Save %
Original price
$525.00
-
Original price
$525.00
3M™ Super 77™ Multipurpose Construction Adhesive is an extremely versatile, fast-drying spray adhesive that bonds a wide range of lightweight materials. Our permanent bond provides fast results to keep projects moving ahead. The photo-safe spray formula is easy to dispense and apply directly onto surfaces and materials where needed, with no soak-in or yellowing over time

FOR INDUSTRIAL USE ONLY

: This product is designed exclusively for industrial applications
AGGRESSIVE TACK: Offers a fast, medium-strength initial grab for a quick bond
REPOSITION AND ADJUST: Features sufficient open time to properly position and bond materials
HIGH-SOLIDS CONTENT: Supports low soak-in to help provide high coverage and soft, non-dimpling adhesive lines
MADE FOR PROFESSIONALS: Provides medium-strength bonding for demanding applications
VERSATILE ADHESIVE: Bonds drywall, concrete, foils, paper, corrugated board, fabric, foam, wood, and more.
The Glue that Holds the World Together
For more than 50 years, 3M™ Super 77™ Multipurpose Spray Adhesive has remained a staple in 3M's portfolio of go-to, everyday-use adhesives considered by many to be necessary at the factory. Recognized worldwide, this spray adhesive has demonstrated its reliability in countless applications. For many, "getting the job done" is just a spray away.
Our 3M™ Super 77™ Multipurpose Spray Adhesive has an aggressive tack that offers a high initial grab as well as sufficient open time to position materials properly. High-solids content supports its low soak-in property, giving you time to find the best fit for your parts. This attribute also provides higher coverage than competing spray adhesives and helps create soft, non-dimpling glue lines. The combination of fast tack, strong bond, and clean appearance makes it ideal for projects of all kinds.

The estimated coverage per five-gallon pail applied at .5 grams per square foot is 12,000 square feet, and the estimated coverage per five-gallon pail applied at 1 gram per square foot is 6,000 square feet.